CONNECTICUT, USA — It's going to snow much of the day Wednesday, but at the end of the day, we may not have much to show for it.
If this same system occurred in December or January, we'd be forecasting a widespread 3" to 6" of accumulation.
But now that it's March, there are other factors to consider.
There are two reasons we are not expecting widespread significant snowfall amounts:
The temperature.
The time of year.
Temperatures during the storm will be in the 30s, at times even above freezing.
By March, the sun angle plays a bigger role in snow that falls during the daytime. The sun angle is equivalent to early October at this point. During the middle of the day, the sun is much higher in the sky, compared to December or January.
Even when it's cloudy and snowing, some solar radiation from the sun makes it through to the surface. Darker surfaces, especially pavement, absorb some of that solar radiation and can melt snow.
So, in cases like these, snow is more likely to pile up on the grass and other colder surfaces, or in higher elevations when it's colder.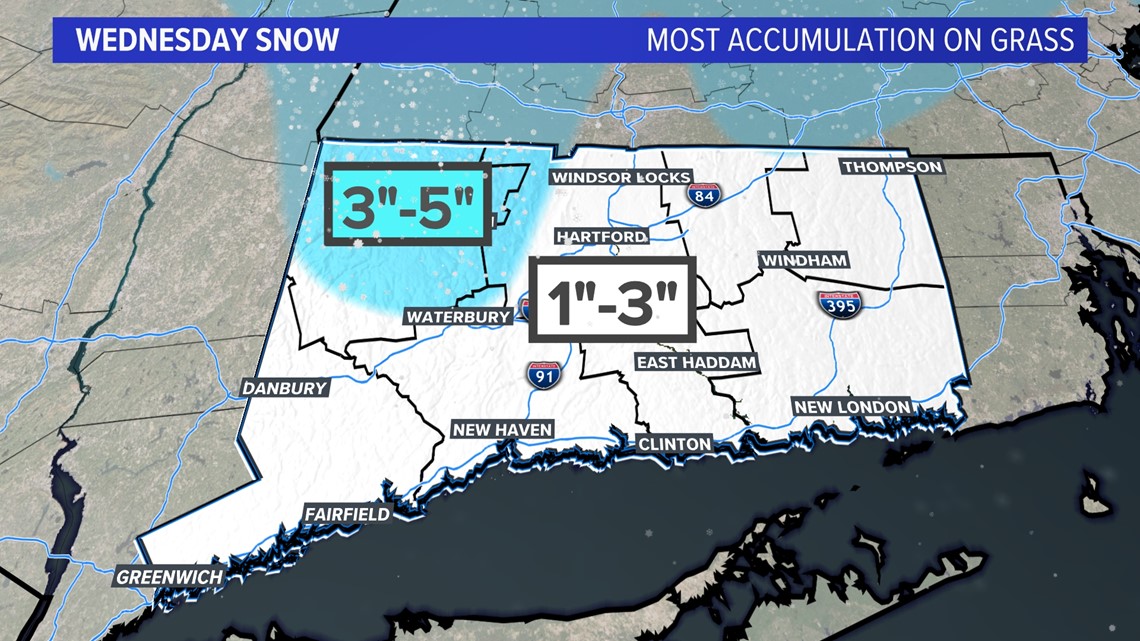 That's why, as of Tuesday evening, we're calling for only 1" to 3" of snow in most of the state, with higher amounts in the hillier towns of Litchfield County.
In heavier bursts of snow, there can be accumulation on the roads for a time, but overall there should be a limited impact to travel during the day Monday.
Ryan Breton is a meteorologist at FOX61 News. He can be reached at rbreton@fox61.com. Follow him on Facebook, Twitter and Instagram.
Have a story idea or something on your mind you want to share? We want to hear from you! Email us at newstips@fox61.com
HERE ARE MORE WAYS TO GET FOX61 NEWS
Download the FOX61 News APP
iTunes: Click here to download
Google Play: Click here to download
Stream Live on ROKU: Add the channel from the ROKU store or by searching FOX61.
Steam Live on FIRE TV: Search 'FOX61' and click 'Get' to download.