SPRINGFIELD, Mass.  -- When you step inside MGM Springfield, the little touches are what make the biggest impact.
One of the first things your see in the hotel reception are are books from the Springfield Library archives. Springfield authors incorporated into the wall of books, a Dr. Seuss chandelier hangs inside one of the hotel suites and there are antiques everywhere from the Brimfield Antique Flea Market.
"We wanted it to be comfortable and we wanted it to feel like it`s been here for a while," said Michael Mathis, President and COO MGM Springfield.
The goal is to blend in but also revitalize downtown Springfield and make it a destination for the surrounding area.
"A big part that we`re doing is not only embracing Western Massachusetts, but reaching down south to incorporate Connecticut into our broader ecosystem," said Alex Dixon, General Manager MGM Springfield.
The casino is incorporating Connecticut businesses as well. "All of our promotional materials, or many of our promotional materials are going to be printed by Minuteman Press out of Enfield. If you look at all the waste that`s going to be leaving the facility, USA Hauling, again out of Enfield is taking all of our waste and recycling," said Dixon.
See a series of 360 degree photos of the hotel:
And 19.5% of MGM Springfield's employees come from Connecticut.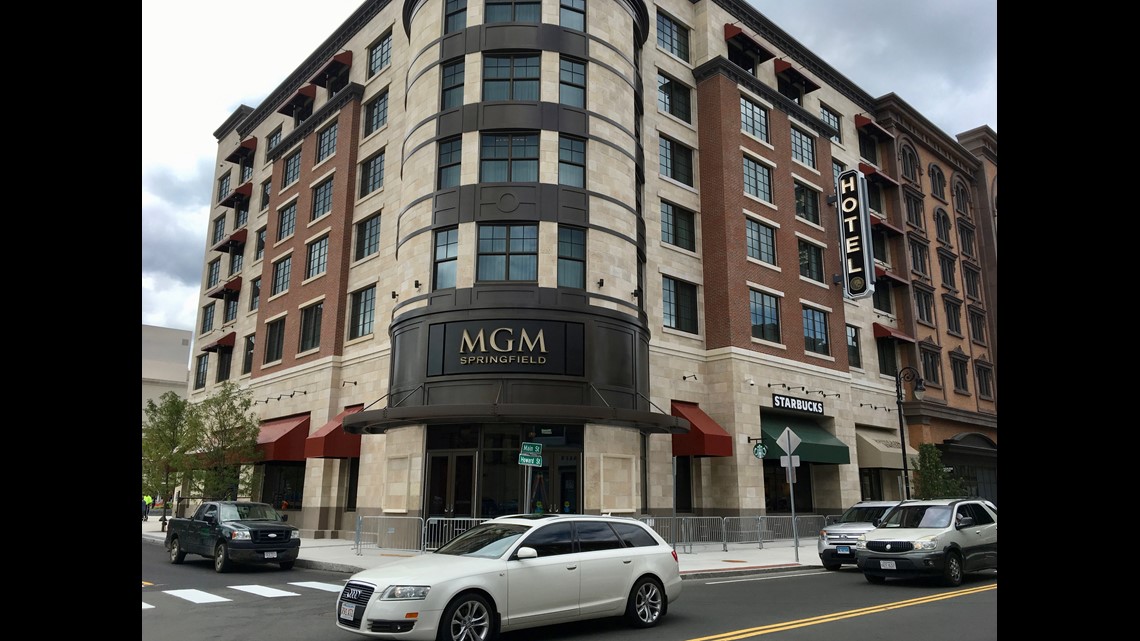 "That`s one out of five employees here come from Connecticut. So if you`re driving up as a consumer, you`ll see a lot of your neighbors," said Dixon.
MGM Springfield does face competition from Mohegan Sun and Foxwoods in Connecticut, but it says its location is what really sets it apart from those competitors.
"Those are I think destination resorts, resorts in the woods, and ours is really integrated into the downtown, so part of what we try to leverage in this situation is not just our wonderful facility, but also all the great amenities that come with a downtown environment," said Mathis.
Fast facts about the casino from MGM
Integrated resort and entertainment destination
$960 million investment
Groundbreaking - March 24, 2015
Scheduled opening - August 24, 2018
Inside-out design integrates hotel into surrounding urban landscape while preserving iconic architecture
14 acres within three downtown city blocks: Union to State Streets and East Columbus Avenue to Main Street
Approximately 2 million square feet of new development including hotel, retail, casino and parking garage
250 guestrooms and suites
Diverse food and beverage portfolio including Cal Mare by Chef Michael Mina, The Chandler Steakhouse and South End Market located off Main Street
125,000-square-foot gaming floor with approximately 2,550 slot machines, 120 gaming tables, a poker room and a high-limit VIP gaming area
Ground-level retail outlets by well-known brands including Indian Motorcycle and Kringle Candle
Amenities to include a full-service spa, Top Golf Swing Suite and luxury cinema
Outdoor entertainment plaza programmed seasonally, including a skating rink and marketplace
MassMutual Center will become the entertainment hub for MGM Springfield and serve as home for large-scale conventions and events
Banquet and meeting space
Seven-level garage with 3,400 parking spaces
President and COO: Michael Mathis
General Manager: Alex Dixon
MGM Springfield is a wholly owned subsidiary of MGM Resorts International (NYSE: MGM)