UConn football's 2023 season preview
After defying the odds by going 6-6 and playing in the Myrtle Beach Bowl, expectations have risen for this year's campaign.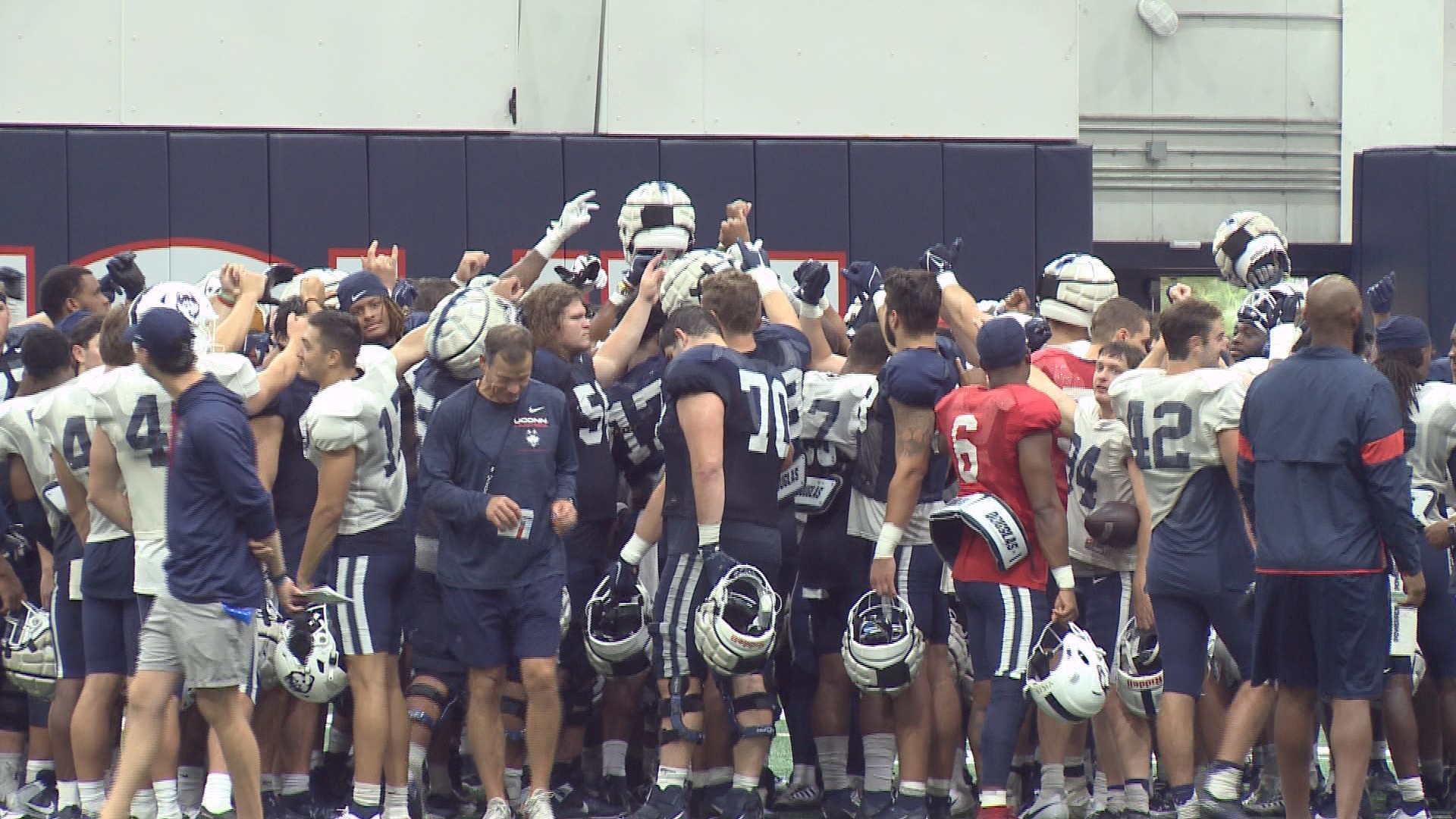 UConn football's 2022 season was something many fans thought could not be possible so soon. The team had just hired Head Coach Jim Mora earlier that spring, and the kind of progress they made by going 6-6 was almost a miracle in such a short time.
"Winning is the number one thing you can do to bring fans into your stadium," said Mora. "So we've got to win. Last year's over. We've got to start over."
The Huskies had won a total of three games in the previous three seasons played prior to 2022, with no shortage of turmoil.
With the precedent of success having been set, the Huskies' 2023 expectation is to only make improvements and continue to develop the program into a perspective college powerhouse.
So, with the season rapidly approaching with opening night on Thursday, August 31, here's everything you need to get ready for the Huskies 2023 campaign.
Coaching
:
Head Coach Jim Mora
Mora's seemingly overnight transformation of UConn's football program has been remarkable. With limited resources and a tumultuous tenure with the Husky's previous coach, he was able to take a team projected to win about three games to a 6-6 record and participate in a bowl game.
"I'm excited about our football team," said Mora. "I think as a football team, I believe that we've improved. We've got to go out and prove it. Prove that we've improved."
Mora since day one has said he wanted to put the program back on the map and their performance last season, despite losing in the Myrtle Beach Bowl to Marshall, was an overwhelming success. That recognition from last year's effort has transferred over into this year's expectations. But where does the team go from here?
Mora said right now the team has been locked in more than he's ever seen.
"They get after it every single day. It's the first time in my career I can remember that we didn't have a training camp fight. Yet they competed every single day," said Mora. "To me, that's a sign of maturity, it's a sign they respect each other, it's a sign they care about each other, and that they understand what their objectives are."
But to Mora his goal is more than just success on the field, he wants supporters to feel proud of the product that they put out week in and week out. He wants to earn the support of the fans.
"People spend a lot of money to come into the stadium and we gotta earn the right to have them wanna open their wallet and spend the money," said Mora. "We don't wanna be entitled, and think why aren't there enough fans here? We'd love it to be packed but we gotta build that."
Mora said that they also can't rest on their laurels from last season, and expect fans to show support regardless. They have to set the tone early and keep a winning mentality.
Mora has been coaching professionally since 1985 when he started as a quality control coach with the then-San Diego Chargers. In 1992, he coached for the New Orleans Saints under his father, Jim E. Mora. Eventually, he became head coach of the Atlanta Falcons in 2004 and was fired in 2006. In 2011, the UCLA Bruins hired him as their head coach and he served in that position for six years.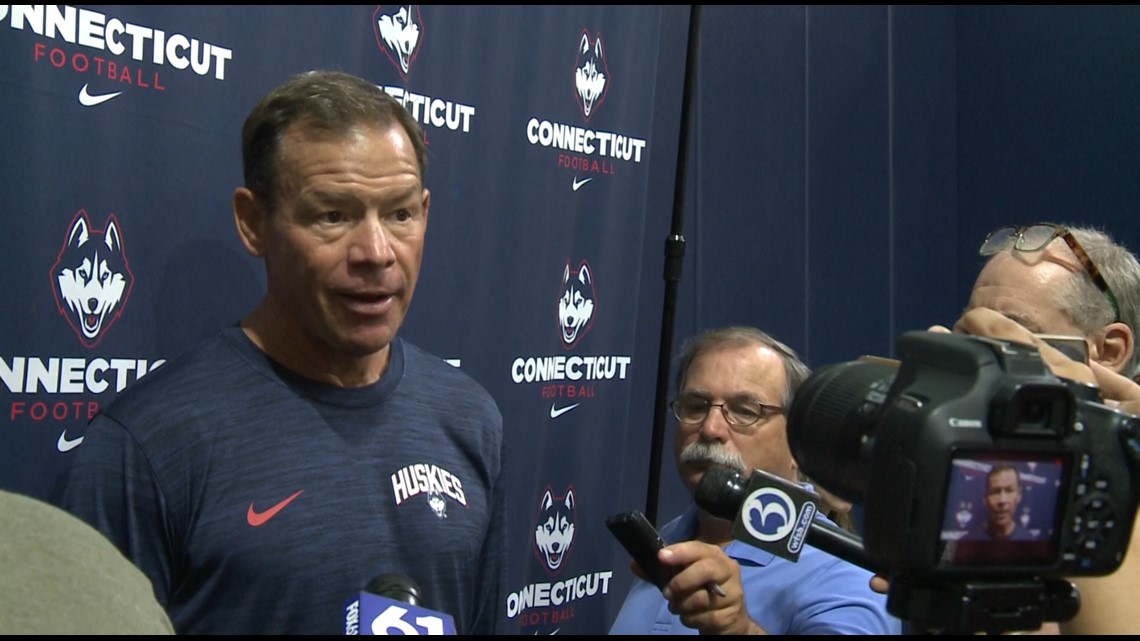 Jon Pagano - Special Assistant to the Head Coach
John Pagano, a former NFL coach, was hired in August to be the Special Assistant to the Head Coach.
"I've known him since I was six years old," said Mora. "He spent some time with us this spring. He really bonded with our staff. I think our players really took to him. When you're able to bring in a guy who has so much experience at the highest level, it can only help your team."
Pagano served as outside linebacker coach with the Denver Broncos in 2020 and 2021. He also coached for the Texans from 2018-2019, was assistant head coach for the Raiders in 2017, and was defense coordinator for the San Diego Chargers from 2012-2016. His career in the NFL spans 26 years.
During his career, he has coached Pro Bowlers Jadeveon Clowney, Khalil Mack, Shawne Merriman, and Shaun Phillips. Merriman earned Defensive Rookie of the Year honors in 2005 with Pagano as his position coach.
Pagano's defenses for the Chargers twice ranked in the top 10 in yards allowed, and they scored the fifth-most defensive touchdowns in the NFL during his time as the defensive coordinator.
His brother is also former Indianapolis Colts Head Coach Chuck Pagano.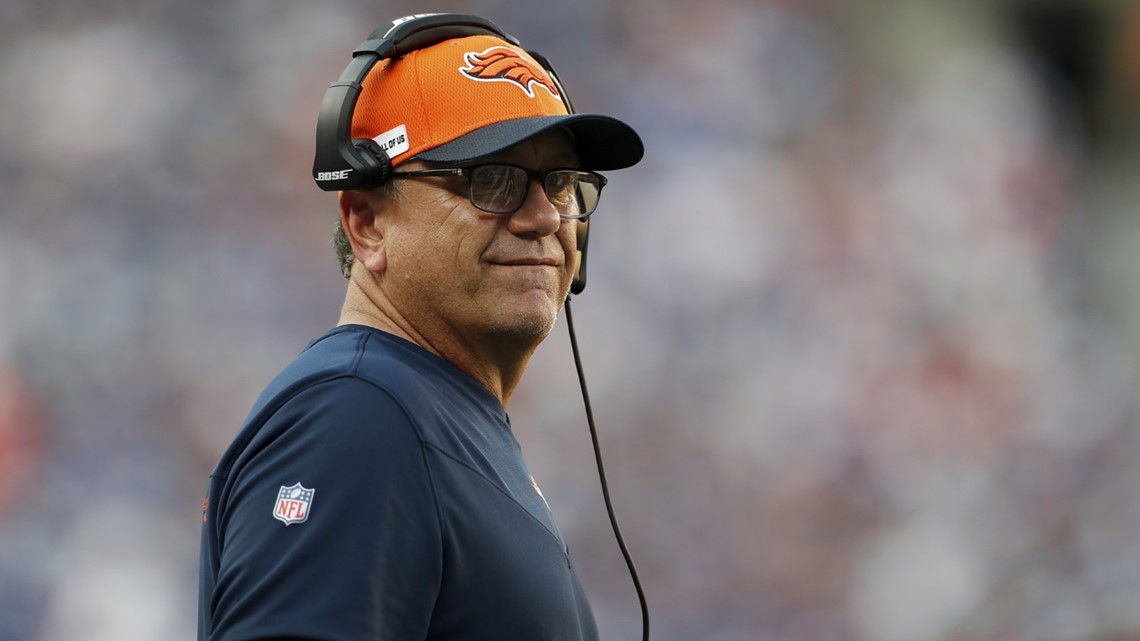 Players to Watch
:


Jackson Mitchell - Linebacker
If there was anyone who you could call a STAR on the Huskies, it would be senior Jackson Mitchell. In the preseason, the Ridgefield native was named to the Butkus Award Watch List, the Chuck Bednarik Award Watch List, and the Bronko Nagurski Trophy Preseason Watch List.
"He is the guy with the most pressure on him to get everything organized," explained Mora. "I think the best thing Jackson does in terms of coaching is he leads by example. When you watch him every day, it makes sense why he's a great player. He does everything right. He will have a lasting impact on this program after he leaves this program because he's teaching the young guys how it's supposed to be done."
Last season, he started all 13 games and led the team with 140 tackles (50 solo), 9.5 tackles for loss and 4.5 sacks. Mitchell was seventh among NCAA leaders in tackles, averaging 10.8 stops per game. His 140 stops tied for sixth in the UConn single-season record book. He finished with two quarterback hurries, three pass break-ups including an interception, and also had two forced fumbles and five fumble recoveries. He finished the season leading the country in fumble recoveries.
He now enters his final season at UConn having played in 35 career games with 325 total tackles, 130 solo, and 18 tackles for a loss including 6.5 sacks.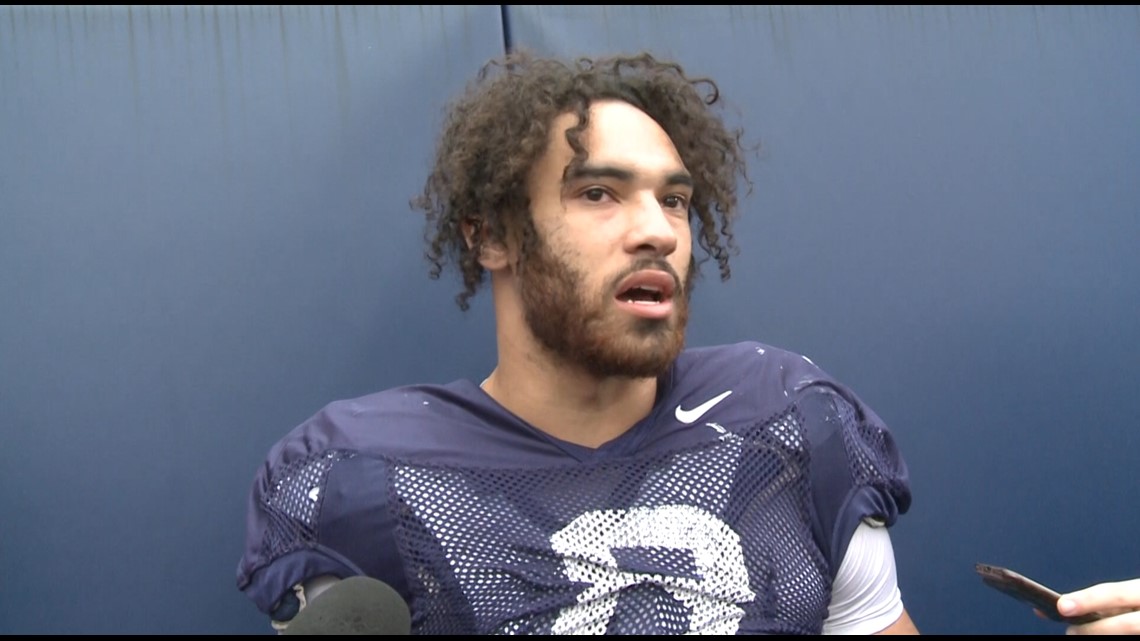 Joe Fagnano - Quarterback
To the surprise of many, the senior University of Maine transfer Fagnano was named starting quarterback over Ta'Quan Roberson and Zion Turner who started games for the Huskies last season.
So why did Mora go with Fagnano? Mora says he stood out ahead of the rest.
"Joe stood out during the final weeks of camp and we feel like he puts us in the best position to be successful heading into the season," said Mora.
Fagnano transferred to UConn from the University of Maine last spring and will have two years of eligibility remaining. Fagnano played three seasons for the Black Bears, playing under UConn offensive coordinator Nick Charlton who was Maine's head coach. In 2022 he posted career-high passing totals, completing 208 passes for 2,231 yards and 15 touchdowns against just six interceptions. Fagnano also had career-best rushing numbers last fall, running for 296 yards on 93 carries for three scores.
"Joe is going to show you why he's out there," said linebacker Jackson Mitchell. "He makes really good decisions. He's comfortable back there and I believe in him."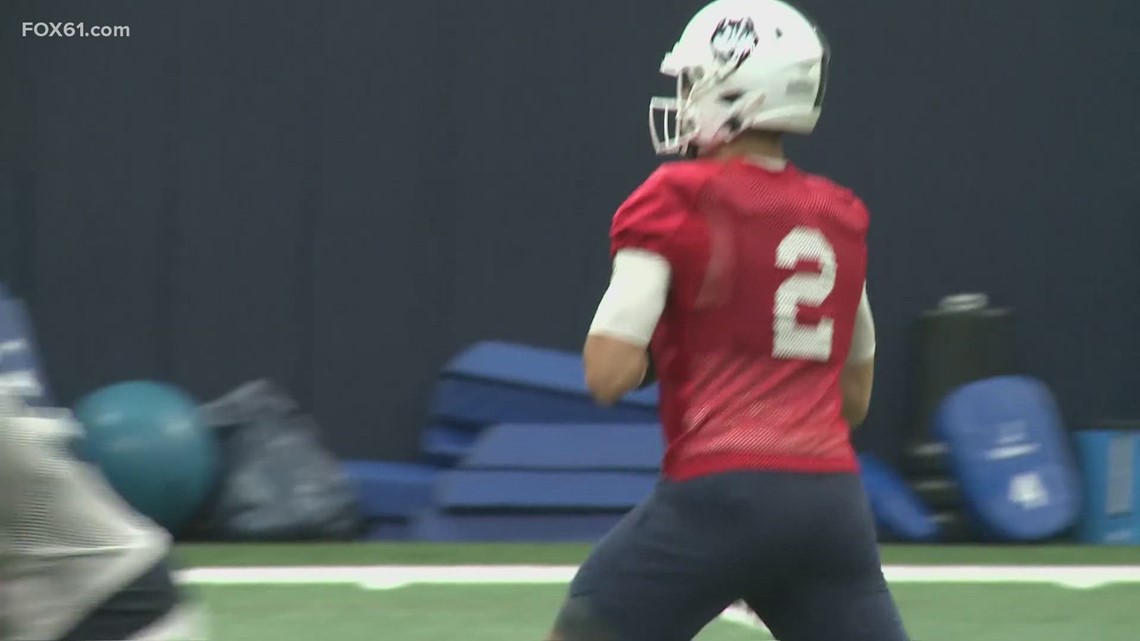 Victor Rosa - Running Back
Donovan Clingan is not the only Bristol Central High School product that's made major waves on campus. The sophomore Rosa made an immediate impact on the Huskies' running game as a freshman last year leading the team with 636 yards rushing on 140 carries.
In 12 total games, he averaged 4.5 yards per carry on the season. and was the team leader with 11 touchdowns. He also led the team in all-purpose yards last season, finishing with 987 total yards
In addition to his backfield duties, Rosa had a team-best 15 kick-off returns for a total of 283 yards.
Rosa finished the regular season with his best game of his rookie campaign, running for 111 yards on 12 carries at Army West Point, and earned a spot on the Week 10 Paul Hornung Award Honor Roll after helping lead the Huskies to a win over UMass.
With the Huskies focused on their rushing attack, look for Rosa to continue to be a focal point in their offense.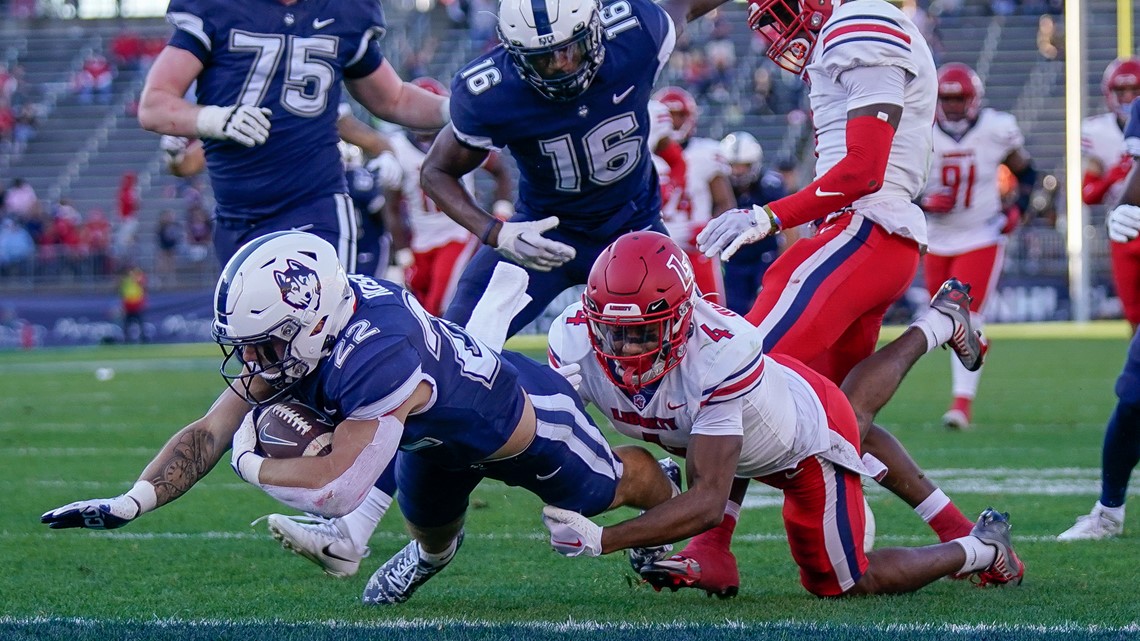 Devontae Houston - Running Back
Houston was the second part of the Huskies 1-2 punch in the rushing attack. The junior played in nine games last season rushing for 538 yards, second on the team, on 79 attempts and 3 touchdowns. He averaged 6.9 yards per rush, the highest among the UConn RBs.
He also had back-to-back 100+ yard rushing games, the firsts of his career, in their huge upset win over Fresno State and at FIU. His longest rush of the year was a 75-yard touchdown against Massachusetts.
He returned kicks on special teams and totaled 143 returning yards on 7 attempts, also had 48 receiving yards on 10 catches.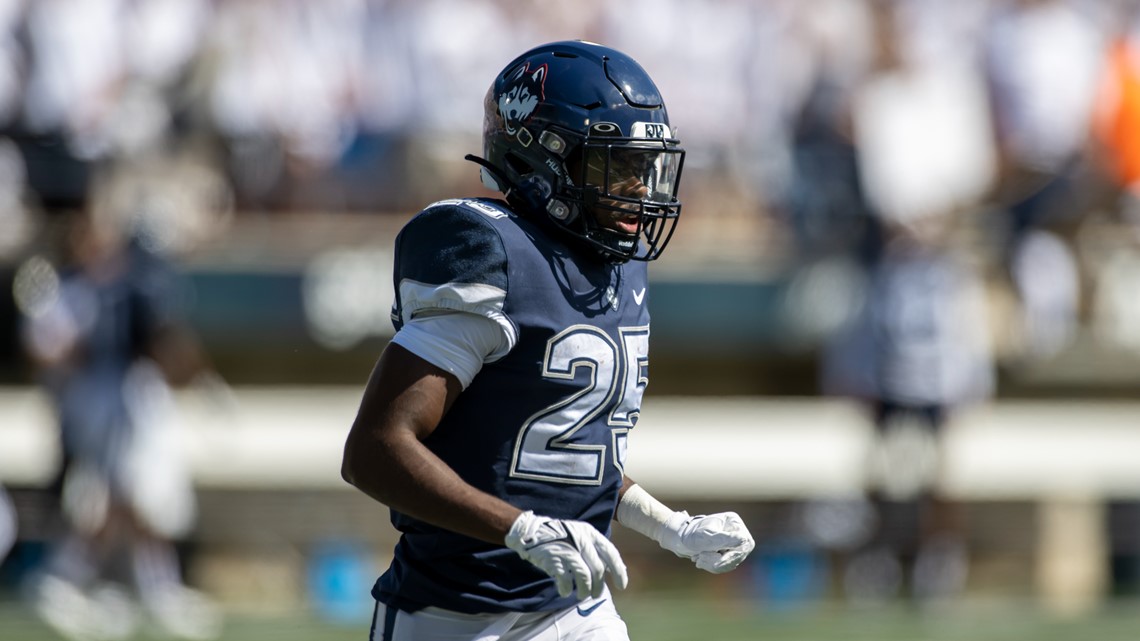 Cameron Ross - Wide Reciever
Ross, a redshirt junior, will be one of the more intriguing players to watch because we've seen so little of him since his breakout freshman season. Ross has been battling injuries for two seasons straight as he suffered a season-ending injury in 2021 after playing in two games and only played in three games last year.
But the reason he could still be prime for takeoff was his dominance in 2019 when he led UConn with 60 catches and 723 receiving yards. He was ranked second nationally among true freshmen in receptions per game (5.5) and total receptions.
He also ranked fifth among freshmen in receiving yards and was selected as an Honorable Mention All-American by Pro Football Focus. His best game came at home against ECU hauling in 8 catches for 169 yards and 2 touchdowns, one of them being for 94 yards.
So it's hard to predict what the Huskies will get out of Ross, but from what he's shown when healthy, he could be lethal in their passing game.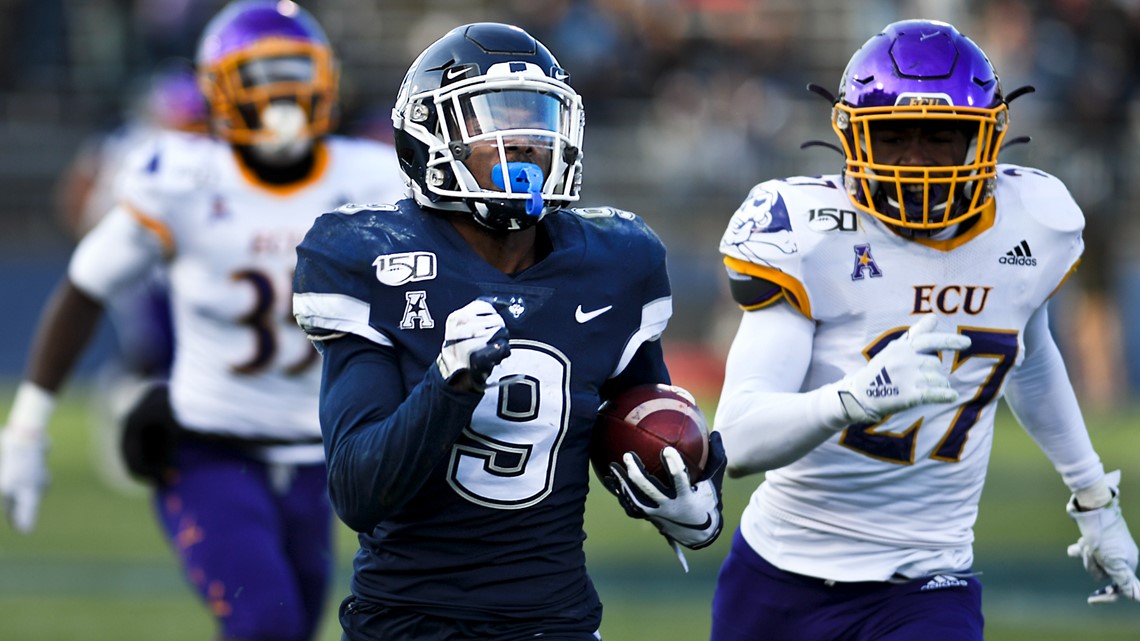 Strengths and Weaknesses
:
Strengths
Rushing
"If it ain't broke, don't fix it" should be the model for the majority of the Huskies' offense this year as the run game was their bread and butter. A one-dimensional offense isn't a good thing when you're trying to compete against the best, but UConn knows they have a go-to scheme that has proved successful with multiple running backs on the roster.


In 2022 they ran the ball an average of 194.9 per game
In 2022 they averaged 4.8 yards per carry
In 2022 they ran for a total of 2,339 yards

Defensive takeaways

In 2022, UConn was Tied-20 in the country averaging 1.8 takeaways game
At home, they averaged 2.4 takeaways per game which was 5th in the country
Jackson Mitchell led the entire country in fumble recoveries
Weaknesses
Passing
Although this season UConn does have a new quarterback that's known to air it out a bit more, the Huskies will still need to get more used to challenging defenses in the passing game. Whether from the shotgun position or running play-action, in order for the Huskies to take the next step, they'll have to switch things up when needed.

In 2022 they averaged the 5th worst passing yards per game at 106.9
In 2022 they averaged the 5th worst total passing yards with 1,283
In 2022 they only had 10 total passing touchdowns
In 2022 they averaged a completion % of 59.4

Interior defense

In 2022 they gave up 1,996 total rushing yards
In 2022 each opponent's average rushing attempt was 4.4 yards a carry
In 2022 they allowed 23 total rushing touchdowns
In 2022 they allowed 166.3 rushing yards per game
Schedule
:
UConn still plays a non-conference schedule so their competition varies across the college landscape. This gives them a great opportunity to match up with some of the nation's best and make a name for themselves for future conference move opportunities.
Notable games to mark down on your calendar are NC State at home, Duke at home, Boston College away, Tennessee away, and UMass away.
UConn's Over/Under for their win total has been set at 4.5 by a majority of sportsbooks.
The full schedule is below.
Regular Season:
No @ means the game is played in East Hartford at Pratt and Whitney Stadium.
Some times are subject to change and some television channels are unannounced
@ Georgia State at 7:00 p.m.
Florida International at 3:30 p.m.
South Florida at 3:30 p.m.
@ Boston College time TBD
Game 10: Saturday, Nov 11
Game 11: Saturday, Nov 18
Sacred Heart at 12:00 p.m.
Game 12: Saturday, Nov 25
If you'd like to purchase season tickets or individual game tickets, click here.
Make sure to stay updated online and on-air with FOX61 as we bring you the best coverage from this year's Huskies season!
Daniel Dashefsky is a digital content producer at FOX61 News. He can be reached at ddashefsky@fox61.com.
Have a story idea or something on your mind you want to share? We want to hear from you! Email us at newstips@fox61.com
HERE ARE MORE WAYS TO GET FOX61 NEWS
Download the FOX61 News APP
iTunes: Click here to download
Google Play: Click here to download
Stream Live on ROKU: Add the channel from the ROKU store or by searching FOX61.
Steam Live on FIRE TV: Search 'FOX61' and click 'Get' to download.