NAUGATUCK, Conn — A video circulating around on social media has prompted an Internal Investigation.
In a press release Tuesday, the Naugatuck Police said, "On the afternoon of September 21, 2020 the Naugatuck Police Department learned of a video circulating on social media that depicted a traffic stop involving a Naugatuck Police Officer. The Naugatuck Police Department subsequently determined that the footage stemmed from a traffic stop that occurred on the morning of September 21, 2020 at about 9:00am at a road construction site on Rubber Avenue."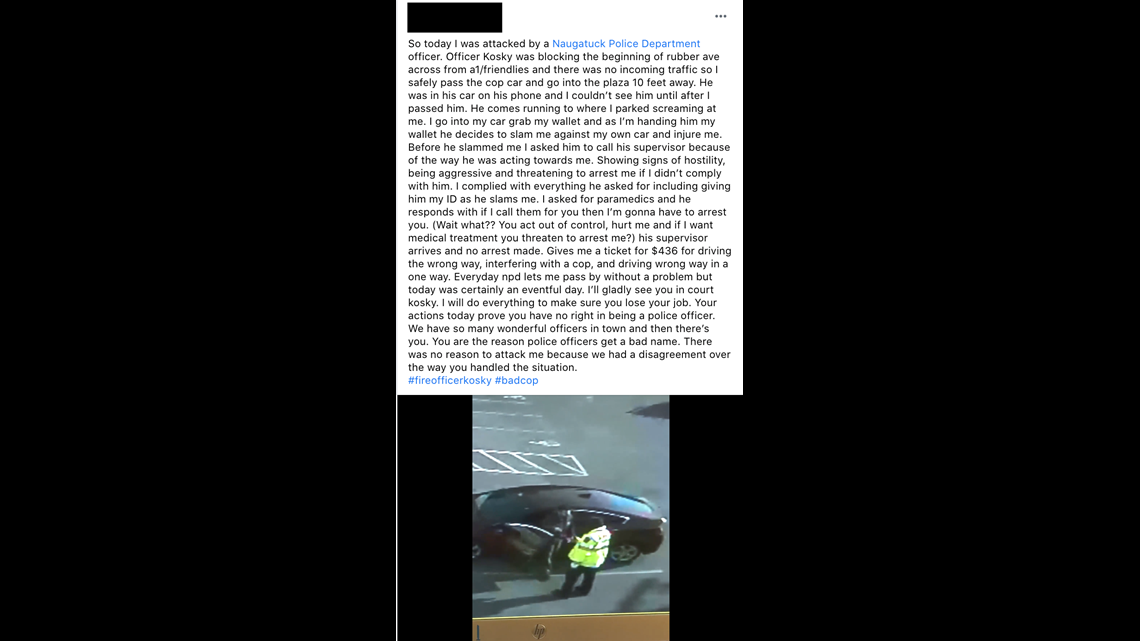 Police identified the officer as Officer Ian Kosky who has been with the department 14 years.
The press release continued, "The department is in receipt of a formal complaint from the subject of the traffic stop and as such Chief Steven Hunt has ordered an internal investigation of the incident to be initiated.
The investigation is in its early stages and is ongoing. Anyone with information is encouraged to contact Naugatuck Police Department – Detective Lieutenant Daniel Norck at 203-729-5222 ext. 2581."
The user claimed in the video post, the officer "attacked" him and then issued him a ticket.
FOX61 asked Naugatuck police on Monday if any of the officers involved were placed on administrative leave. Police said they cannot comment at this time, they are still investigating.